Around 1887, a noticeable change took place to the work of Johan Hendrik Weissenbruch; his use of colour became lighter and he sought for new, clear harmonies of tone in his paintings. His 'Beachscape', now in the collection of the Municipal Museum in the Hague, announced this innovation. The development continued with this 'Beachscape with shellfishers' from 1891.
Weissenbruch was able like no other to catch the atmosphere on the Scheveningen beach: the high cloudy skies, the light that plays over the water and the melancholic silhouettes of shellfish carts in the the surf. These moments of peace and quiet were less sought after by other painters of the Hague School. Mesdag enjoyed painting the activity around the boats on the beach, Blommers and Sadee chose the fish auction, which then took place among the ships, as their subject, and Josef Israëls enjoyed his greatest success with fishing girls from Scheveningen, deep in thought on the tops of the dunes.
The beachscapes by Weissenbruch from the last years of his life were to become the highlights of his career as painter.
Read more
Read less
Collection book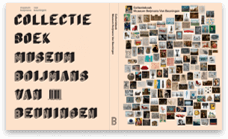 Order