Maria Colve was the wife of Maerten Nieupoort, whose portrait was also painted by Maes. Both paintings are in the collection of Museum Boijmans Van Beuningen. She married Nieupoort on 20 December 1667. The marriage brought forth a son Willem Hendrik Nieupoort (1674-1724) and a daughter Anna Maria (died 24-12-1687). Maria Colve died on 29 January 1687 in Dordrecht.
Just as in the portrait of her husband, there is an evening landscape in the background. To the left of Maria and her daughter there is a plant in a vase. She has her child on her lap and in her left hand she has three fruits, probably apples. The fruits presumably have a symbolic meaning.
The portrait was produced by Nicolaes Maes at the height of his creative powers. Around 1670, his development to elegant, monumental portraits against a landscape-like background had reached full maturity. Later, Maes, with his large output, would repeat his poses and base his work more on his routine.
Read more
Read less
Collection book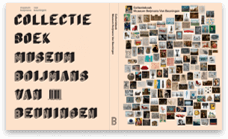 Order