This Van Gogh painting was the first of the artist's paintings to enter a public collection in 1903. He entitled it 'Symphony in yellow'. It marks the transition from his dark Dutch oeuvre to his lighter expressionistic French work. He took it with him to Paris, where he added the lighter dabs., Van Gogh attached a small drawing of this painting to a letter to his brother Theo, to show him what he had made. Based on this, the painting has been dated October 1884. At the same time there are indications that the painting was reworked two years later, in 1886, with brighter colours. In that year, Van Gogh was in Paris and, under the influence of the impressionists, he started working with lighter colours.
It is not easy to determine which strokes of paint were made in the Netherlands and which were added in France. The blue stripes which stand out against the sky and the light touches in the trees seem to have been added in France. These are brighter than the colours he used in his Dutch period. The way in which the ground is painted, built up of isolated strokes of paint, also seems to acknowledge an impressionistic influence. Van Gogh left the signature at bottom left, which already appeared on the painting, when he did the repainting. The Dutch paint can still be seen there.

Source: Annet Tellegen, 'De populierenlaan bij Nuenen van Vincent van Gogh', Bulletin Museum Boymans-van Beuningen, Rotterdam 1967, pp. 8-15.

X-ray photos have shown that Van Gogh had initially used this canvas for a completely different painting. The contours of a church tower and a landscape can be seen. Perhaps he was dissatisfied with this composition and therefore used the same canvas for a different painting. Or could he not afford a new canvas and sacrificed an old work in order to be able to create a new one?

Read more
Read less
Collection book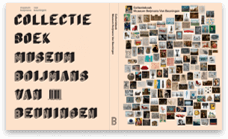 Order