The French Dadaist Marcel Duchamp made the first version of this case on 1 January 1941. Some 300 of them were finally produced. The case contains Duchamp's complete oeuvre reproduced in the form of 69 carefully constructed miniature replicas and black and white reproductions coloured in by hand. The contents of the case includes the famous urinoir and the masterpiece 'La Mariée mise à nu par ses célibataires, même'. In this way, Duchamp created a portable museum, in which his work as a whole is exhibited.
The works are reproductions of earlier works, but are, at the same time, unique handmade pieces. Together they form a museum, which is presented in its entirety as a new work of art. Duchamp did this with an irony typical of him: the case is most like that of a travelling salesman.
, In Marcel Duchamp's view a work of art did not need to be unique in order to merit that description. He was one of the first to make multiples, art in editions. His most famous multiple, the 'Boîte-en-Valise', also infringed a second unwritten rule, that of the difference between original and reproduction. In the case, of which the first was completed on 1January 1941 and around 300 were made in all, he reproduced his entire oeuvre in the form of 69 carefully made miniature replicas and reproductions in colour and black and white. In this way he created a portable museum, in which his oeuvre could be shown as a whole. This he did with a characteristic irony: the case most closely resembles that of a salesman.
Read more
Read less
Collection book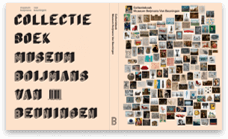 Order