This drawing is attributed to Gentile Bellini, the older brother of Giovanni
Bellini. Few of his paintings shave survived. In this impressive double
portrait, the doge (chief magistrate) and the nuntius (representative
of the pope) are depicted in profile, returning each other's gaze, in an
architectural window. The gold details in the clothing show the last
traces of the Gothic tradition in which Gentile's father Jacopo Bellini was
trained.
Read more
Read less
Collection book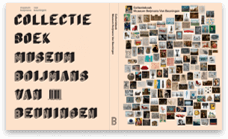 Order