In a sun-drenched meadow, demarcated by willows, a farmer in a blue smock milks a black and white cow. The work is typical for one of the attractions of the paintings in the Hague School: the feeling of sharing an experience of nature with the artist.
Often the painter chose a sudden event in nature: a passing incidence of light between trees, a cloudy sky that breaks open, an imminent thunderstorm or even a rainbow. These phenomena, which disappear as quickly as they arise, demanded an extremely rapid method of working from the artist, in which he permitted himself to leave out unnecessary details.
Often the final painting still showed traces of that rapid observation. For the conservative art lovers, this lack of detail was an indication of incompetence. For artist groups such as the Hague School and the Barbizon School, this way of painting was an innovation with enormous significance.
Read more
Read less
Collection book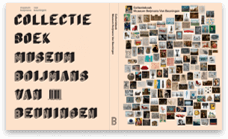 Order