In a narrow composition, Weissenbruch has painted a farmer on a white horse on a road along the bank of a canal. In the distance, a white sail suggests a boat on the canal. The composition is bordered on the left by a group of trees and on the right by a windmill. A blue sky with white clouds spans the whole.
Weissenbruch was the the most explicit 'plein-airist' among the members of the Hague School. For him, working in the open air was almost a condition. Tirelessly he draw and painted the polder landscape in the vicinity of Noorden and near the Nieuwkoop lakes, apparently unperturbed by unfavourable weather conditions. This small oil sketch must have been made on one of these trips.
Large paintings, however, were always made in the studio, often based on oil or charcoal sketches. Weissenbruch's famous watercolours were also frequently painted in the studio. Working in the open air and from nature was a frequently repeated principle for the painters of the Hague School, but in some cases it was also part of the mythology of the landscape artist.
Read more
Read less
Collection book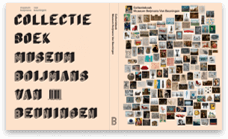 Order