In 'Let your hair down' in the entrance area of the Boijmans Van Beuningen Museum, you can leave your daily things behind you and surrender - literally floating in the air - to video art.
The Swiss video artist Pipilotti Rist has in recent years hit the international art world headlines with large spatial video and audio installations. Stretched out on soft benches, cushions or beds, the museum visitor can relax and watch the images on the ceiling, on the floor or on transparent curtains.
'Let your down your hair' is a sequel to these installations. Rist designed a place where you can relax at the start of the exhibition or recharge your batteries during your visit. The show consists of a series of videos - one by Rist and five works from the museum's video collection - which changes every six months.

Read more
Read less
Collection book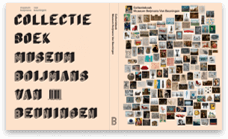 Order