At the end of 1876, Fantin-Latour marred Victoria Dubourg, who had at her disposal a country house surrounded by a large garden in Buré in Normandy. Here the painter found all the flowers he could wish for. It was the start of a productive period, in which one flower still life after another left the studio. The works from this period show that Fantin-Latour painted directly from nature and did not make use of sketches or composition studies.
The way flowers faded so quickly was a major problem, and it demanded a fast method of working. He lay down, in small, free brush strokes, each flower individually and as accurately as possible, and then, with the touch of the master, added small details here and there.
This still-life from 1876 also arose in this way. Here, Fantin-Latour combines in a harmonious way and with great feeling for colour, flowers from one season. What makes this still life special is the free composition, in which a vase is missing.
Read more
Read less
Collection book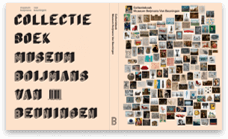 Order