This sumptuous still life by Abraham van Beijeren is not only a feast for the eye; there are also signs of restraint. The watch and the figure of Fortuna can be seen as symbols of the fleeting nature of life and the insecurity of faith. , Many seventeenth-century painters specialized in a particular genre. Abraham van Beijeren built his career on two seemingly unrelated subjects: still lifes and sea or river views. He is best known for his still lifes displaying wealth and abundance.
Van Beijeren was a true master of variation. The same objects appear in nearly all his still lifes, but he arranged them differently on each occasion so that no two paintings are alike. The silver pitcher, the half-peeled lemon, the watch and the silver-plated beaker that he depicted in this work are some of the objects he used time and again. The window in the upper left corner and the swagged curtain in front of it can also be seen in many of his paintings.
The still life is a delight, but there is more to this array of extravagant objects than meets the eye. The painting also contains a hidden message: it reminds the observer of the virtue of moderation. The personification of Fortune surmounting the beaker alludes to the vagaries of fate, while the three roses on the silver dish and the watch beside the bunch of grapes symbolize the passage of time and the transience of earthly possessions.
Read more
Read less
Collection book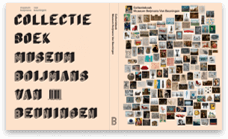 Order