Bol has incorporated existing topographical details in this drawing. On a frozen moat outside the city walls people are skating. In the foreground spectators are standing on a bridge. It leads to the city gate, which can be identiefied as the well-known Roode Poort (Red Gate) of Antwerp, with it characteristic medieval tower. Behind it is the St. Jacobskerk.

This miniature drawing is a design for a series of prints depicting the twelve months, engraved by Adriaen Collaert and published by Hans van Luyck.

The months can be identified by the signs of the zodiac and by the occupations that are characteristic for each month. The drawings show a variety of details from everyday life and bear witness to Bol's dual talent: he was both a landscape painter and a chronicler of everyday life.
Read more
Read less
Collection book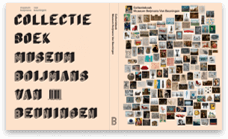 Order