The cupboard 'Carlton' designed by Ettore Sottsass is perhaps one of the most striking examples of the so-called anti-design that was in the eighties practiced by Italian designer's groups such as Memphis and Studio Alchymia. The unaware visitor could nevertheless confuse this critical style as merely a result of joking around. This is not only realised by the use of materials, but heightened by the liberal use of colour and references to low culture. Laminated prints of imitation marble and wood are used to decorate the surfaces of the furniture. One of the most used patterns is one taken from a blown-up image of bacteria. Sottsass once testified to having taken inspiration from tiles from subway bathrooms.
Despite the use of industrial materials, many of the objects are manually produced in limited series. This was a conscious protest of designers against mass consumption and the sleek, corporate design style that accompanied it. It is an example of the increasing dislike of the consumer society that started to develop during the sixties. Fixed design rules were thrown overboard or turned around. This development gave birth to frivolous objects, which make us rethink the purpose of the things we have around us.
, In the 1960s Ettore Sottsass was occupied with 'Architettura Radicale' or anti-design. As a reaction to modernism, he believed in the cultural value and the aesthetic function of the object. Design values like transience, irony, kitsch and intense colours were restored and manifested in, among other things, his Carlton bookcase. Sottsass preached a creative licence that meant a bookcase no longer needed to be a bookcase, but had to function as a medium that conveys a message.
Read more
Read less
Collection book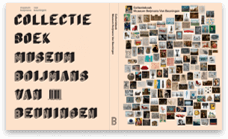 Order