In addition to paintings, sculptures and ceramics Picasso left an immense graphic oeuvre of more than 2500 etchings, woodcuts, aquatints, lithographs and linocuts. The earliest prints originated in 1904, when the artist had chosen to permanently settle in Paris. From 1933 onwards graphic art was no longer a sideline to him, but an indispensable medium. Picasso experimented extensively with technique, found new subjects and made variations on old themes. He remained enormously productive until 1972, the year before his death.
Museum Boijmans Van Beuningen owns almost four hundred prints by Picasso. By far the largest part was acquired between 1954 and 1969. Thanks to a subscription with the Gallery Louise Leiris in Paris, the museum received a numbered copy, signed by the artist, of most of the prints from this period. The colour linocuts, of which the first ones originated in 1958, are undoubtedly among the highlights. Even though Picasso was already in his seventies, he quickly mastered the technique and experimented with forms and colours to his heart's content.
In 2002 the museum managed to acquire a highly special addition to this collection. From the collection of the master printer who assisted Picasso a series of eight consecutive proofs were acquired of the colour linocut 'La Dame à la Collerette' (1962). This series of Picasso's wife Jacqueline's portrait in historical costume forms a beautiful illustration of the artist's method when making a print. The Museum Boijmans is the only museum in the Netherlands to own a complete series of proofs in which the artistic quest of the printmaker can be followed step by step.
Read more
Read less
Collection book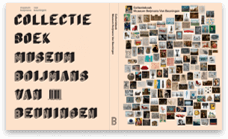 Order